The Ultimate Guide to Choosing the Perfect Men's Underwear
Posted On: 26th Jun 2023
The Ultimate Guide to Choosing the Perfect Men's Underwear
Choosing the right underwear is more important than most men realize. It's not just about what's comfortable or what's on sale. It's about considering the function of the underwear, what you'll be doing in it, and what you'll be wearing over it. After all, gym underwear is not date night underwear, and the underwear you choose can significantly impact how you feel and the confidence you have in the rest of your clothing.
The Importance of Wardrobing
At Wood, we believe in the concept of wardrobing. This means that men should have more than one style, color, and type of underwear in their drawer. Underwear should be selected according to the function it serves. For example, gym underwear needs to offer full support and moisture wicking, while date night underwear is about how good you look in it and how it makes you feel.
Key Factors to Consider When Purchasing Mens Underwear Online
When buying underwear from a mens underwear online store, consider the function you need it to serve. Do you need more support for the gym or active movement? Consider the style of pant or short you'll be wearing over it. Skinny jeans, for instance, need a style with less fabric. Also, consider the color that will best suit the rest of your clothing. For example, don't wear black underwear under white pants. Lastly, consider the temperature of your environment. If it's hot and humid, go with styles that have less fabric.
A Deep Dive into the Different Styles Offered by Wood Underwear
Wood Underwear offers a variety of styles, all designed with comfort in mind. All our styles feature comfort waistbands that are non-binding, non-folding over, durable, and soft for comfort. All of the understyles with a leg have a gusset (a flat panel in the crotch) that helps the legs stay put and prevent ride.
Trunk:
Our shortest leg brief at about 1" inseam, we call this one date night ready. It's great when you want a leg but don't need a lot of fabric or you're in a higher temp environment.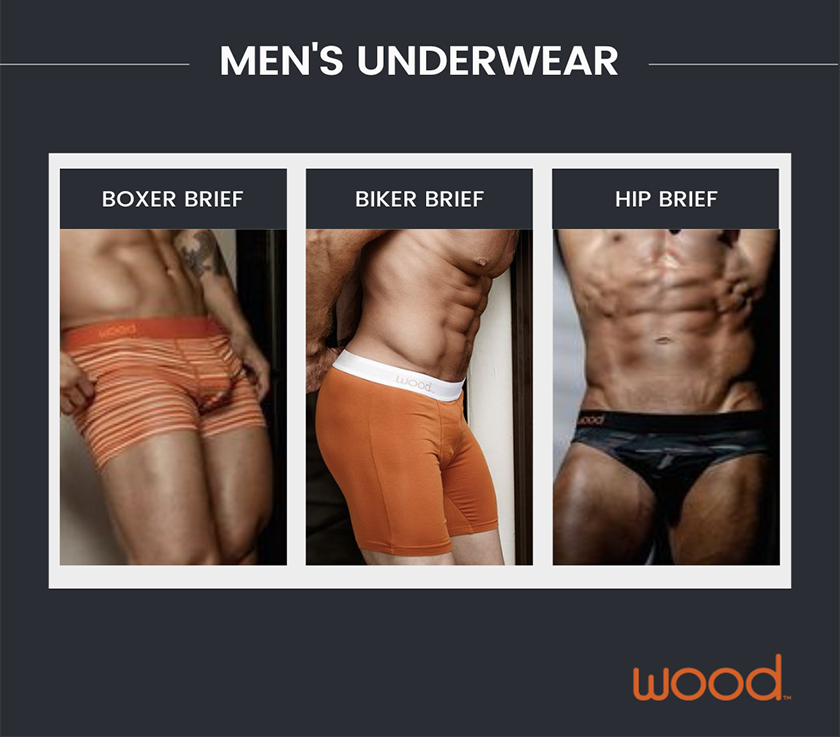 Boxer Brief:
Our mid leg brief at about 3" inseam, this is the biggest part of the market and for Wood as well. It's very popular and a great all-purpose leg in average temps with casual fit clothing.
Biker Brief:
Our longest leg brief at about 5-6" inseam, this is a great style for taller/bigger guys who find a shorter leg is just too short. It's a style that fits for colder temperatures, offers more leg support, and also provides more chafing protection.
Hip Brief:
Our no leg brief, but it's not your Dad's tighty Whitey. This is a modern take on this style that is fully supportive, very attractive, and highly versatile in your wardrobe.
Thong/Jock:
Our thongs and jocks are built for performance and comfort. They offer support and confidence that everything stays put, making them a great combo of performance, comfort, and support.
Choosing the right underwear is a personal decision that can significantly impact your comfort and confidence. By considering the function, style, color, and temperature, you can select the perfect underwear for any situation. Explore the variety of styles offered by Wood Underwear and experience the difference that the right underwear can make. Shop now and build the foundation of a great wardrobe with Wood Underwear.