She's Single - Gift Guide - Cashmere Underwear for Him
Posted On: 2nd Oct 2022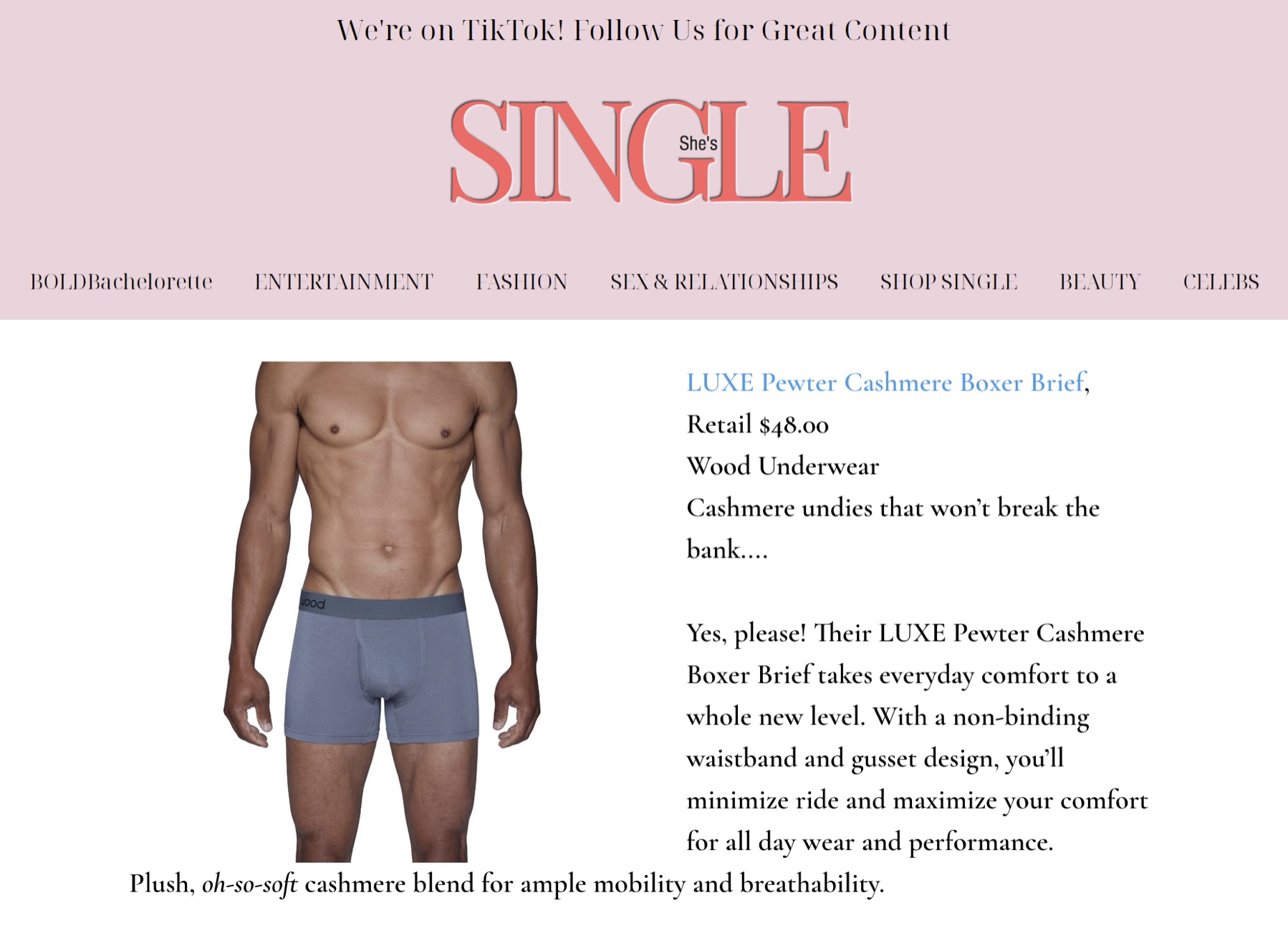 Something You Want, Something You Need
by The Editors
A rhyme as old as time, "Something you want, something you need, something to wear, something to read". Whether you're shopping for the holidays or planning your year of gift gifting to a family member or special friend, this 'Four Gift Rule' may just come in handy. Why can something like this work for anyone? During the year we have several holidays and special occasions: Valentine's Day, Mother's Day, Father's Day, Birthdays, Anniversaries, and Christmas. We can all at times feel inundated with trying to find the perfect gift for him or her. But what if we implemented this rule all year-round instead of just at Christmas? You see, you can find gift guides for just about any event and if you're keeping a nice record of gifts given throughout the year, you can remain organized. By Christmas, you'll already know what gift to get—helps to reduce the anxiety and stress one may feel.
Perhaps for Valentine's Day, you can get him or her something they want. Mother's Day or Father's Day, something he/she needs. Birthdays, something to wear, and by Christmas, something to read. This does not have to be limited to hardcover or paperback books, many plays, films, etc. are literary adaptations. If your special someone is into music, take them to see a musical or get them tickets to their favorite concert or festival. Remember, this can go in any order you see fit.
Related articles: Affordable Luxury Gifts for Her
Related articles: Gifts for Female Entrepreneurs
SOMETHING YOU WANT:
This is usually typical at Christmas but can work just as well for a Birthday, Anniversary, or Valentine's Day. It is the thing they want but would not or could not buy themselves. Below are some editor picks to help make things a bit easier.
SOMETHING YOU NEED:
This can range from household essentials to things needed to help someone lead a healthier life. Pretty much anything the person might want that is very practical, useful and needed. Below are some editor picks to help make things a bit easier.
LUXE Pewter Cashmere Boxer Brief, Retail $48.00
Wood Underwear
Cashmere undies that won't break the bank....
Yes, please! Their LUXE Pewter Cashmere Boxer Brief takes everyday comfort to a whole new level. With a non-binding waistband and gusset design, you'll minimize ride and maximize your comfort for all day wear and performance.
Plush, oh-so-soft cashmere blend for ample mobility and breathability.
Machine wash cool with like colors. Tumble dry low heat. Your booty will thank you!