Gifts for HIM from HER. Gift Ideas for Holiday Season 2023
Posted On: 14th Nov 2023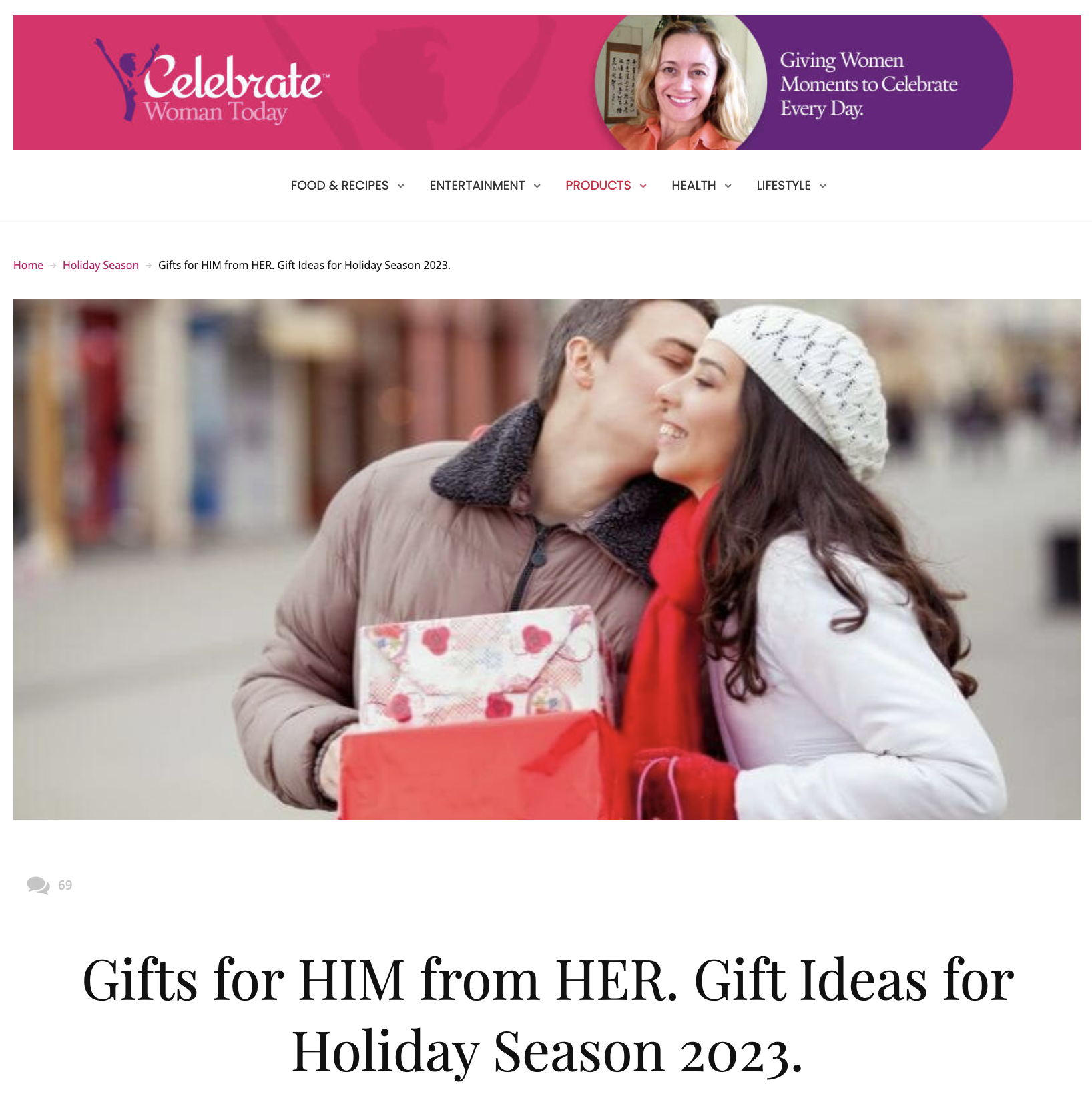 Gifts for HIM from HER. Gift Ideas for Holiday Season 2023.
Gifts can evoke a wide range of emotions in men. And the feelings associated with receiving a particular gift can vary depending on the nature of the gift and individual's personality. But what you can expect for sure is a warm feeling of appreciation when a gift has been touched with our heart and soul.
That is why we need to remember and take into consideration the emotional impact our gifts have on people. Keep in mind the occasion, the relationship between the giver and receiver, the context of the gift-giving, and, naturally, the person's preferences and personality.
Whatever you put into your gift, it will be noticeable without delay once it's unwrapped and accepted by the receiver.
This Holiday Season, I would like to focus on positive emotions the meaningful gifts can bring into the life of our friends and family members. Obviously, I could not physically place ALL products that a man could and would love and desire and treasure. But these products in this shopping post would give you gift ideas and PRODUCT CATEGORIES to consider and check out the possibilities for a thoughtful and happy gift.
Here's the beginning of the celebration with Gifts for HIM from HER. Read it all.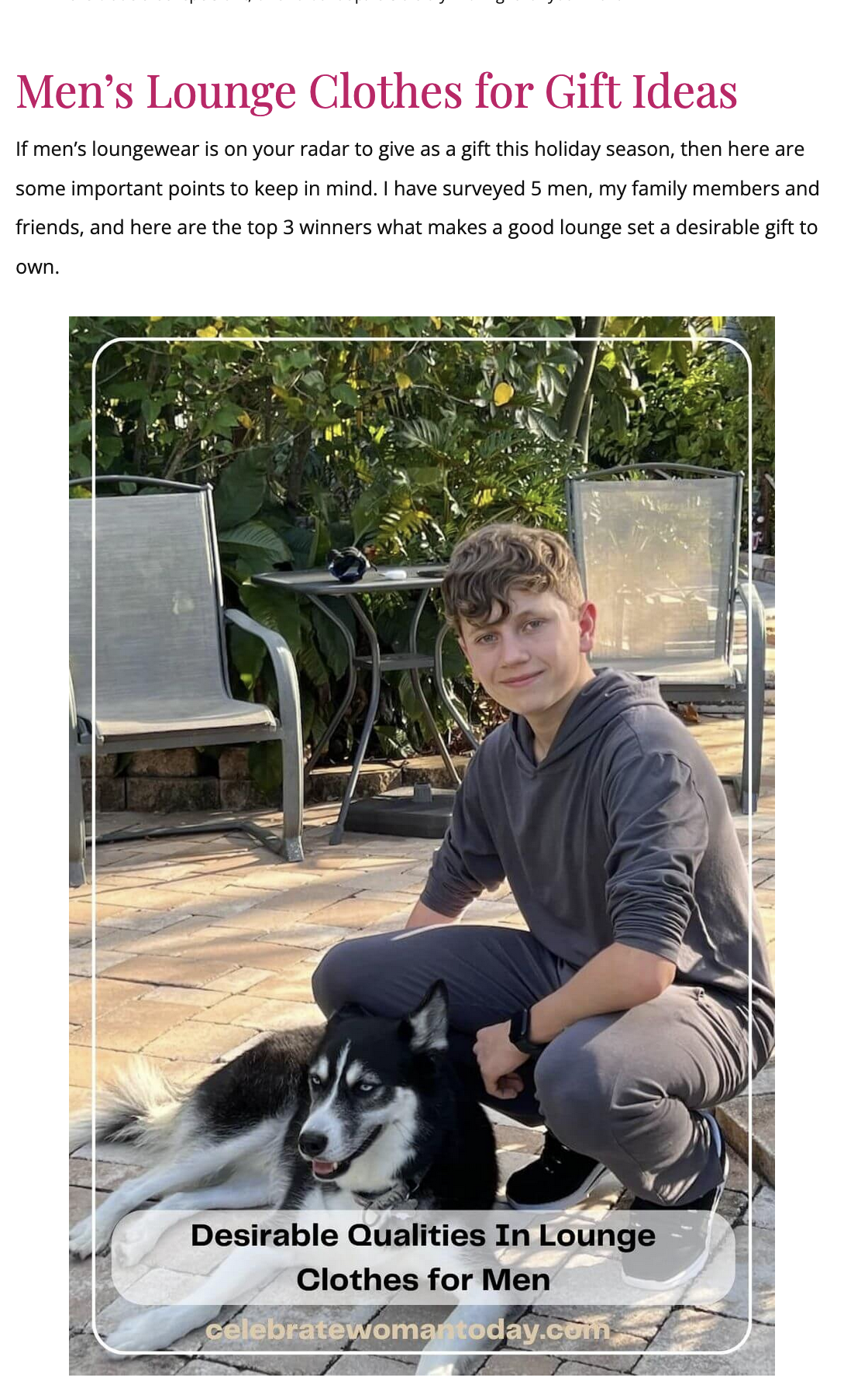 Men's Lounge Clothes for Gift Ideas
If men's loungewear is on your radar to give as a gift this holiday season, then here are some important points to keep in mind. I have surveyed 5 men, my family members and friends, and here are the top 3 winners what makes a good lounge set a desirable gift to own.
Comfort
Comfort should be a top priority when selecting lounge clothes. Look for soft, breathable materials like cotton, modal, or fleece. Pay attention to the fit as well, as some men prefer loose-fitting loungewear while others like a more snug or tailored fit. Consider factors like elastic waistbands and adjustable drawstrings for added comfort.
Style
Lounge clothes can be both comfortable and stylish. Take into account the recipient's personal style and preferences. You can choose from a variety of options, including lounging pants, shorts, hoodies, sweatshirts, and T-shirts. Consider colors and patterns that align with their taste, whether it's classic and neutral or bold and fun. You can also opt for branded lounge sets or high-quality basics depending on the individual's fashion sense.
Quality
Invest in lounge clothes that are well-made and durable. Higher-quality materials and craftsmanship can make a significant difference in comfort and longevity. Look for reputable brands or read reviews to ensure you're giving a gift that will last. Keep an eye out for features like reinforced seams and pre-shrunk fabric to ensure the clothes maintain their shape and size after multiple washes.
Shop for some of our favorite brands ever to feel comfy and stylish – Wood Underwear HERE.