Why Men Should Wear Undershirts in the Winter
Posted On: 22nd Aug 2022
Why Men Should Wear Undershirts in the Winter
Pumpkin spice. NFL Sundays. Crispy leaves.
We love to get our Wood on this time of year ‒ but as the temperatures drop and we retreat indoors, undershirts SHOULD become as commonplace as wearing underwear.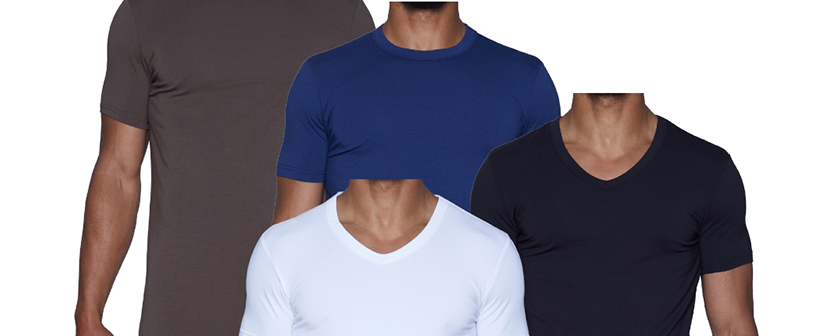 You may be thinking: "Undershirts are a bit extra. Do I really need to wear them?"
Here's the thing:
You don't need to rock a standalone undershirt like James Dean (but we're not against it, either.) When worn underneath your clothes, an undershirt CAN help you stay dry, warm, and comfortable WITHOUT turning you into a sweaty Christmas ham.
Not convinced you need an undershirt?
Think again, you self-proclaimed Yeti! Before we deck the halls and shake up the New Year, here are all the reasons why men wear undershirts in the winter… because let's face it: it's about to get cold as balls.
What is an Undershirt?
Here at Wood, we want to convince all of you men that you, too, can channel your inner Marlon Brando or James Dean in undershirts.
But before we really get into it, let's clear up a common misconception:
An undershirt is NOT the same as a T-shirt.
Covering the torso and fitting closely to the body, undershirts absorb sweat and provide a protective barrier between your body and clothing.
How can you tell the difference between undershirts vs. T-shirts?
The difference boils down to length and bulk. Undershirts are lightweight, and stretchier. They're designed long in the torso so they stay tucked in more easily. They also have less fabric in the sleeves so they fit against your arms and don't give you a fabric bunch up when under other shirts.
T-shirts, on the other hand, are shorter in the torso but generally have longer sleeves. They're also bigger, bulkier, and less form-fitting.
So, don't confuse the two; otherwise, you'll commit a serious fashion faux pas and turn into a sweaty mess.
Speaking of sweat...
Undershirts Eliminate Sweat & Odor
Do you live in a climate where subzero temperatures and heavy snowfall become the norm in the wintertime? Does your home or office get cold and drafty?
As we constantly move between cold outdoor temperatures to the warmer indoors, our body temperatures are prone to fluctuating and resulting in excess sweat. Undershirts provide the extra layer and ventilation you need to stay dry without feeling stuffy or constricted.
Tell us more!
The wicking properties of Wood's short-sleeve undershirts and long-sleeve base layers absorb sweat and provide better odor and thermo-control so you stay warm and comfortable, even during all your favorite (and not-so-favorite) fall and winter activities.
So whether you're raking the leaves, shoveling the driveway, hitting the slopes, or simply braving the tundra outside, our Lenzing Modal cotton blend provides a breathable, super-soft feel that helps you stay comfortable and wards off sweat and stink long after you've retreated inside.
What are some other reasons why men wear undershirts in the winter?
Protect Your Clothes & Maximize Your Confidence
Are you returning to the office or planning to take your fashion game up a notch in the New Year? Whatever the reason, many of us are ready to bid Auf wiedersehen to pandemic attire, start dressing better, and quite frankly, start feeling better!
But before you bust out your go-to casanova outfit, let's face the facts: Dress shirts and suits may look good, but they don't always feel good.
Made without spandex, viscose, and other artificial fibers, our plush Lenzing Modal cotton blend moves fluidly with your body, maximizing your movement and minimizing chafe and itch EVEN when you're wearing more constricting clothing.
The result?
Undershirts will also reduce wear-and-tear on your actual clothes, preventing stains and keeping them looking fresh, pressed, and pristine for longer.
Heavier around the stomach, waist, or chest? The long tail and slim fit of an undershirt will complement the natural contours of your body and even out those extra pounds. There is a slimming effect with an undershirt. #truth
Tips for Wearing Undershirts in the Winter
Alright, men. So now that we understand why men wear undershirts in the winter, what are some of the ways you can take your undershirt game to a sexier level?
Have a variety of undershirts in your wardrobe. Here's why:
V-neck undershirts are highly versatile and discreet under polos and transparent dress shirts (yes, even when unbuttoned).
Crewneck undershirts minimize irritation, itch, and stiffness (yes, even under those itchy ugly Christmas sweaters).
A crewneck undershirt can minimize poking hairs through your shirt (because no, you shouldn't have to always shave your chest) and also give you that pop of fashion color at your neckline.
That's not all. Consider wearing long-sleeve undershirts as soon as the first autumn chill arrives ‒ and all winter long. They have better wicking and thermocontrol properties than traditional long thermal underwear that can cause your body to overheat and sweat.
How Should an Undershirt Fit?
Undershirts are form-fitting, so they should fit snugly and comfortably. Make sure it conforms to your natural movements without bunching up.
You want an undershirt that's long and smooth. That way, it's easily tucked in at the waist.
Can You Wear a Standalone Undershirt?
We're not going to tell you no! After all, there's nothing sexier than a confident man in a standalone undershirt.
Granted, this time of year gets to be a bit cold to wear an undershirt on its own. But hey, if you want to channel your inner Marlon Brando around the house, we're all for it!
Subtle. Supportive. Sexy: This is Why Men Wear Undershirts
It's WAY too early to tell which teams will make it to the Super Bowl ‒ but before you know it, winter will be here in FULL, frigid force.
Lightweight, super-soft, AND sexy, Wood's short-sleeve undershirts and long-sleeve base layers will help you stay dry, warm, comfortable, and confident. Did winter just get better?
Want more Wood? Need more Wood? Check out our blog and stay tuned for more.