Q. How do you Beat the Heat? A. Wear an Undershirt!
Posted On: 4th Jun 2023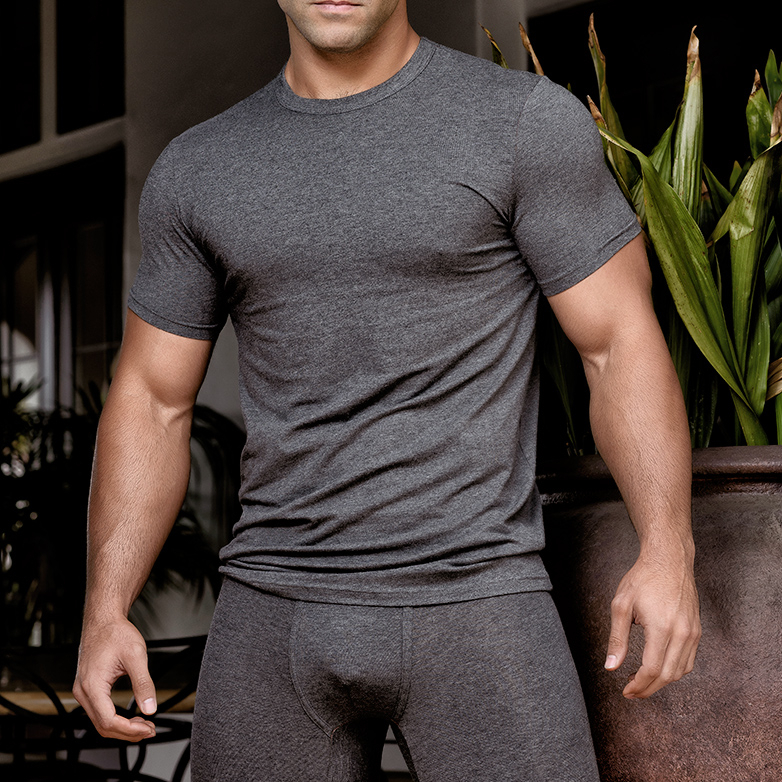 Q. How do you Beat the Heat?
A. Wear an Undershirt!
Wearing an undershirt in hot weather can COOL you down!#truth
An undershirt can be especially beneficial for men who wear suits, or multiple layers of clothing like a uniform. What? When temperatures rise, sweat can quickly become a problem, you know that dripping down your back, soaked up by your shirt, jacket, pants, etc. It can not only leave you wet, but can lead to unsightly stains and odors that can ruin the appearance of your clothes, your suit, your uniform….and it can just be uncomfortable.
A Wood Underwear undershirt takes care of all that. An undershirt will keep you dryer and fresher. It will absorb excess sweat and prevent it from seeping through to your outer clothing, not only help to protect your clothing but also keep you feeling more comfortable and confident throughout the day. With a Wood Underwear undershirt, you get the added advantage of moisture-wicking fabric. It's the Lenzing TENCEL™ Modal that gives you all the stay cool properties. Wood Underwear undershirts are a blend of cotton, Lenzing TENCEL™ Modal and elastane. Those Natural fibers and regenerated cellulose fabrics in our knits also let the air through, helping keep you feeling cool and dry by pulling moisture away from the skin and letting you 'breathe'. This can be particularly important in humid climates or during outdoor events, where heat and humidity can be especially intense. You stay cooler. Oh, and can you say "Sustainable"?!Definitely AVOID anything made from acrylic, non-woven, and/or synthetic fabrics.
Beyond the practical benefits, wearing an undershirt WILL boost a man's (YOUR!) confidence. By providing a comfortable and secure base layer, an undershirt can help to create a sense of control and ease, even in high-pressure situations. Think about this, it can also help to improve posture by providing gentle support to the upper body, which can in turn enhance confidence and self-assurance. Subtle, but real. Knowing you are well-dressed and put together can have a positive impact on your mental state, you'll feel more focused, capable, and confident in your interactions with others. The benefits of wearing an undershirt go beyond just physical comfort - they can also help to enhance your overall sense of confidence and well-being. Give it a shot. There's nothing to lose….except maybe extra moisture in your shirts.
Q. What about an undershirt under a golf shirt?
A. ABSOLUTELY. We love this question. An undershirt keeps you dry. It wicks moisture. It helps with odor control. Believe it or not but it will help regulate your body temperature too. And it will keep you more comfortable throughout your round. Wearing an undershirt can also help to prevent chafing and irritation, which can be a common problem during long rounds of golf. Overall, wearing an undershirt under a golf shirt is a simple and effective way to enhance your comfort, performance, and enjoyment on the course. More comfortable? We know what that means in golf….better scores! Wow, did we just say wearing a Wood Underwear undershirt will help you better your golf game? Well, we can definitely guarantee you a simple and effective way to be more comfortable, dry and fresh on the course. Regardless of score.
Q. When would you suggest we DON'T wear an undershirt?
A. There aren't many occasions we'd suggest NOT wearing an undershirt, but it is true there are times. Maybe the fabric in a shirt is sheer or very thin. Maybe the shirt has such a deep v-neck that an undershirt would be too prominent…maybe mess up those gold chains. ? And, there are certain fabrics out there that don't lend themselves to an undershirt. Not many, but they exist. Ultimately it really depends on your comfort level.
Q. V-Neck Undershirt or Crew Neck Undershirt?
A. Yes! Okay, that might not be so helpful, but… At Wood Underwear we ship an equal number of crews and v-necks in a lot of colors but primarily white and black. And, we ship each to the same person. Why? Because they each have a great purpose. V-Necks can be hidden below the top button of your dress shirt. It can relieve you of another layer of fabric under your tie-know. Some people just love the look of it. I mean check out Shemar Moore in this SWAT clip. And a crew neck does all that plus can give you a pop of color or fashion above that top button on your shirt. Or here's Shemar in a crew neck.See they both work. Well.
Wearing an undershirt in hot weather can be a smart and practical choice for men who want to stay cool, dry, and well-dressed, no matter what the weather brings….and get that extra bit of confidence and feeling great throughout the day no matter what you're doing.
Get Your Wood On. You'll love it