Spring Cleaning Build a Premium Underwear Drawer
Posted On: 13th Mar 2023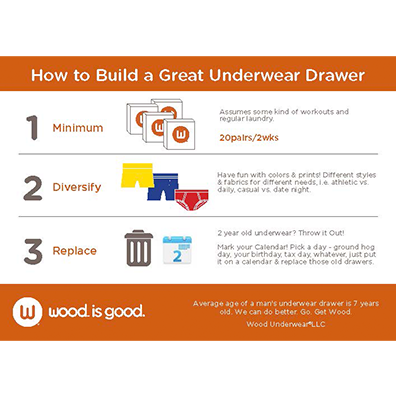 It's Spring and that equals Spring Cleaning – and that means Your Underwear Drawer! Build a Premium Underwear Drawer
The first step to building a great premium underwear drawer worthy of the time and treasure you've put into the rest of your wardrobe?
Clean up the Existing one.
We'll make this brief. (yes, all puns are intended here at Wood Underwear)
Does it have any holes?
Point of clarification: Yes, one hole is still a hole.
Are there any stains?
Point of clarification: Anywhere on the underwear, a stain is a stain.
Is the fabric or band no longer it's original color?
Point of clarification: Faded is not original.
Is it from a different decade?...or millennium?
Point of clarification: tie dye hasn't been 'in' since the 70's (19 – 70's).
Is it stretched out?
Point of clarification: stretched fabric and/or waistbands aren't 'finally comfortable'.
If you answered YES to any one of these questions – THROW IT OUT!
One more point of clarification: only 1 (one) YES qualifies it to the trash can.
There is no nostalgia or sentiment that should prevent the waste basket from filling up.
Seriously, it's underwear. Don't keep the stuff around that's not worthy.
Now that you've done the hard part….you get to do the fun part!
Build a Great Underwear Drawer
How many? At least 20 pair. Assumes reqular laundering.
What kind? Diversify that drawer. Have fun with colors and prints, styles and fabrics and different functions. Trunks, Boxer Briefs, Hip Briefs, etc. all pair well with different clothing, environments and circumstances. And they all have a place in your Premium Underwear drawer.
Think about your underwear as part of your wardrobe. Assure you have the right underwear for the clothing you have in your closet.
With a few minutes of your time, you'll optimize your wardrobe exactly because you've updated and upgraded your underwear drawer.
Impress your…self. Clean up that drawer.