5 Things You Didn't Know About Men's Thongs ❘ Wood
Posted On: 12th Nov 2021
5 Things You Didn't Know About Men's Thongs
It's the 21st Century. So why are men's thongs still so controversial?
They've come a long way from the early days of nylon and spandex, evolving to provide breezy comfort, maximum movement, and a sexier, higher quality fit... and no, they're NOT exclusively for women or male strippers.
Here at Wood, whenever someone asks the question, "Can men wear thongs?", we respond with a big, enthusiastic, practically flabber-gasted, Hell, Yeah!
And do you want to know why?
Because thongs are the superior underwear ‒ and more men wear them than you realize.
It's not some big secret or conspiracy: Men do and should wear thongs.
Lower those eyebrows.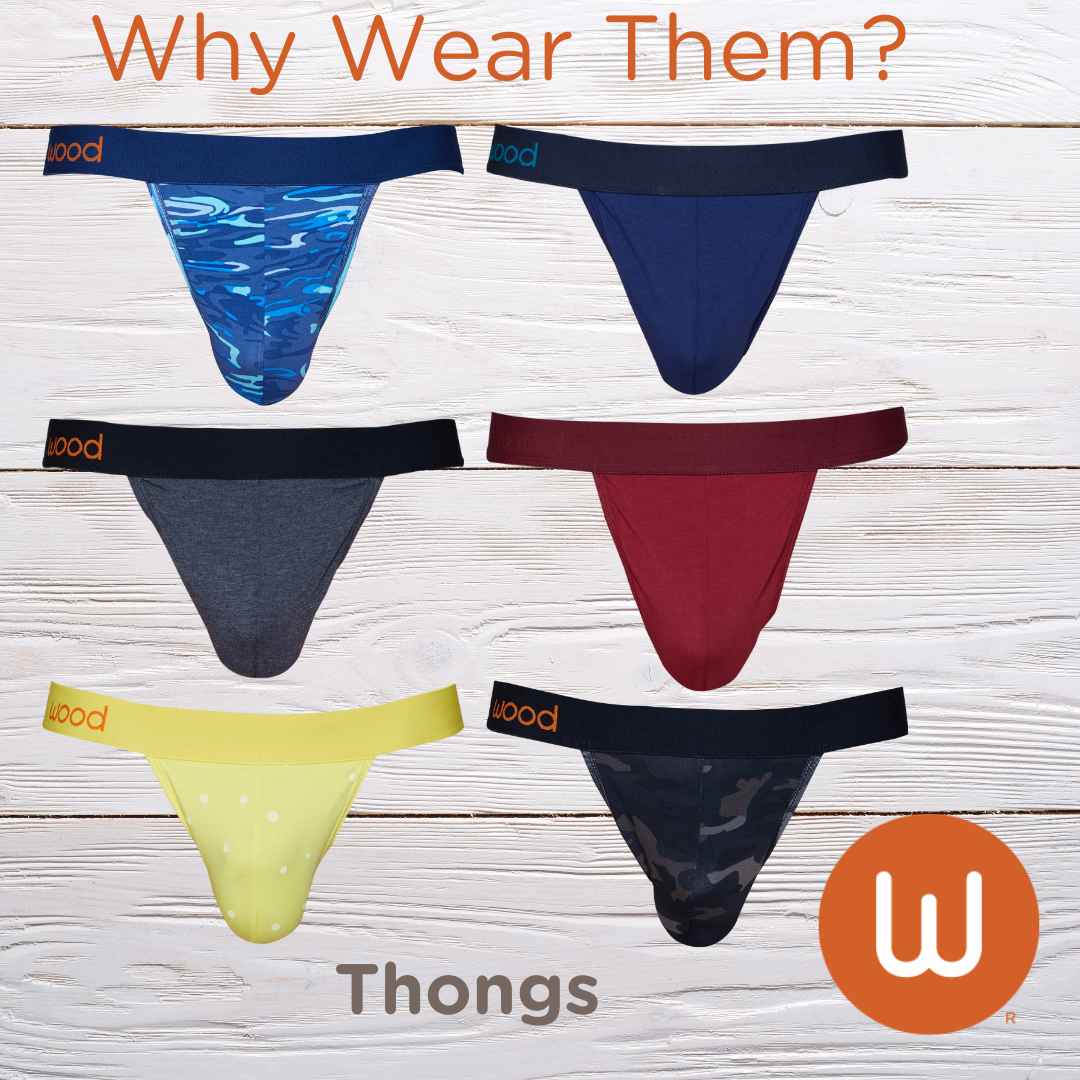 Here are 5 things you didn't know about male thongs:

1. Firm Support & Coverage Where It Counts!
A lot of men are put off by the idea of wearing thongs because of their traditionally thin, flimsy appearance and long-standing association with femininity.
Contrary to popular belief, a male thong is a specialty underwear especially designed and built to provide superior support and stretch for, well, a man's manhood.
Made from a breathable, super-soft Lenzing Modal, cotton blend, Wood's male thongs conform and firmly hug your natural size and shape, providing durable coverage where it matters most. With a non-binding waistband and plush, triangular front pocket, you'll give your package the right amount of coverage and support while maximizing your mobility and minimizing waist bulge.
Talk about a confidence boost!
2. No Wedgie. Total Comfort.
Thongs offer the lightweight, frontal support you need to contain your genitals WITHOUT all the excess back fabric that can lead to ride-up and wedgies. With less fabric comes freedom of movement and breathable comfort ‒ two things you aren't always guaranteed with with your underwear.
Improper sizing is, almost always, the culprit behind wedgies, underwear ride-up, chafing, and other not-so-flattering inconveniences.
As a general rule of thumb, the back string shouldn't be too tight or too loose, nor should there be any front pouch sag. A thong needs to fit just right, allowing the back string to move with your movements naturally without causing your package to pop out, nor any chafing.
Size matters, so you want to get it right. Wood offers thongs in a range of sizes ‒ all made with a non-binding waistband that will conform to the natural contour of your waist and hip.
3. Ample Breathability... That Fresh & Breezy Feeling!
Let's just say some materials are better than others.
Unlike nylon, polyester, and other 'lesser' materials, Wood's specialty blend of Lenzing Modal and cotton has ultra-wicking powers for ample freshness and breathability. Pair this blend with the fact that thongs are designed and produced with a minimal amount of fabric and you'll minimize sweat, chafe, and the potential for rash. 100 degree heat index? We got you!
Less stink. Less itch. No swamp ass. (Your nether regions will thank you.)
4. Less Fabric = No Underwear Lines
No matter if you're rocking skinny jeans, short-shorts, a tightly-tailored suit or trousers, a thong will eliminate underwear lines and bulkiness, saving you from the embarrassment of a fashion faux pas.
Minimal fabric means a smoother, sexier, line-free profile down there, pairing well with form-fitting clothing. While thongs are amazing for special events that call for more tailored clothing, that doesn't mean you can't wear them out-and-about or at work. Make it a daily favorite.
Not to mention, the plush, not-too-thin, not-too-thick feel of our Lenzing Modal cotton blended thongs will make you forget you're even wearing one at all!
5. Men's Thongs Are Sexy ‒ What More Can We Say?
There is serious sex appeal when it comes to men's thongs. After all, thongs provide the right amount of coverage and support, all while revealing more of your abdomen and enhancing the suppleness and contour of your buns and thighs. And, provides great shape to your package.
Women love them. Men love them. So remember: Thongs are all about freedom and confidence ‒ you're going to make a statement when you wear one. Whether you're flexing in the mirror, dancing the night away, or getting intimate, a thong will empower you to feel bolder and look sexier.
Tips for Wearing Thongs
Now that we've explored everything you need to know about men's thongs (and then some), let's dive into some tips and tricks to help you improve your thong game:
Machine wash with similar colors & tumble dry on low heat. That way, you'll maintain the seamless, comfortable fit of your thongs and get longer use out of them.
Ease your way into daily wear. Not just for special occasions. As you get more comfortable with them, you can begin to wear them under casual wear or work attire.
Rock a tan. Thongs can help your buns achieve an all-over bronzy glow. So, lay out the towel, whip yourself something to drink, and soak in some vitamin D. (Don't forget the SPF!)
Most importantly, remember that you deserve to look and feel like your best self. Wearing a thong can dramatically improve your self-esteem. So, embrace a thongs and all the possibilities that await!
Empower Yourself with Wood's Thongs for Men
Are you ready to make thongs part of your underwear drawer? Wood's got you covered with all of our freshest thongs, made from the plush Lenzing modal cotton blend you know and love.
Not quite ready to go balls to the wall in a thong? Wood has more in store for you! Learn more about jockstraps and try one