21 Spectactular Undergarments For Ladies & Gents This Fall
Posted On: 2nd Oct 2022
As Seen In The Daily Mom - 9/13/22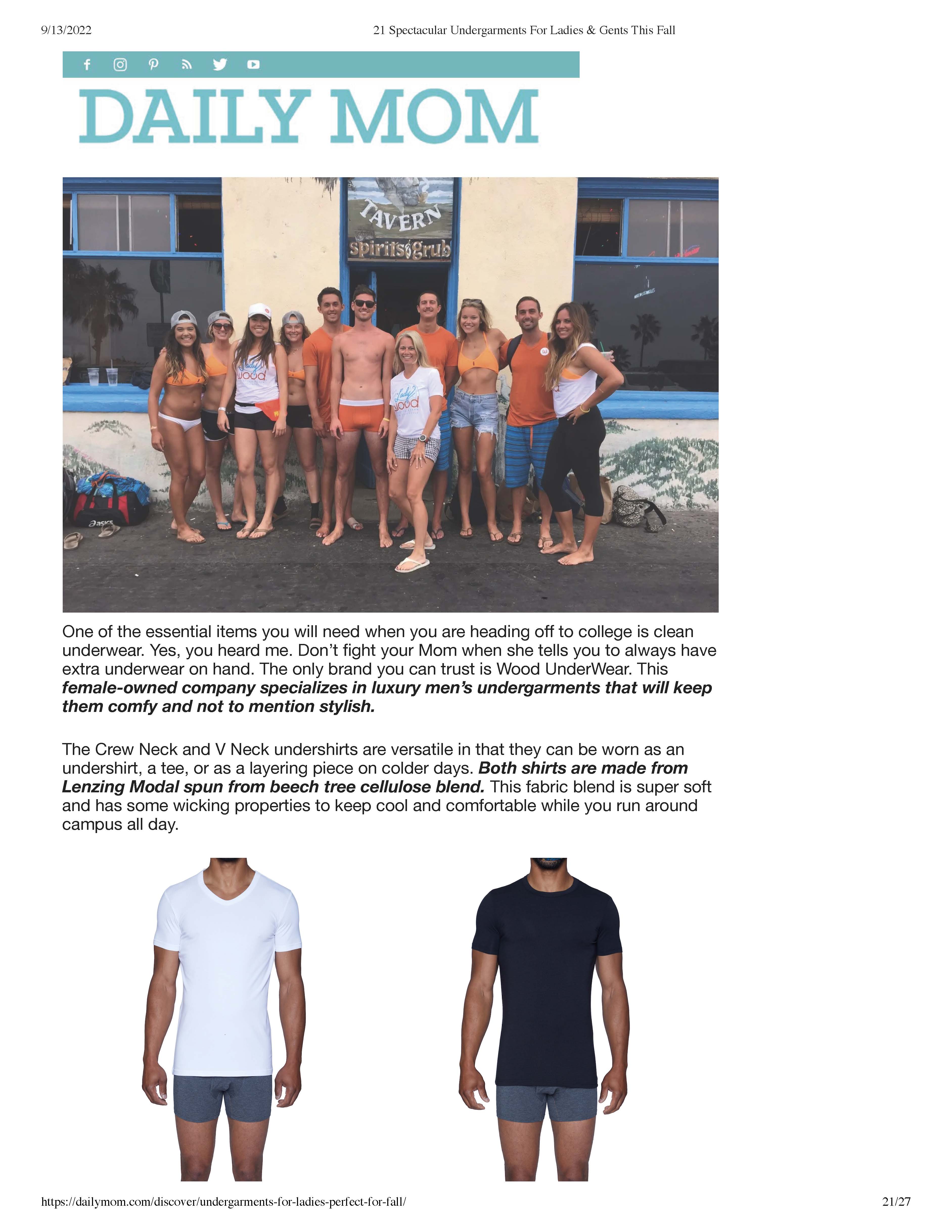 21 Spectacular Undergarments for Ladies & Gentleman This Fall
Now that the kids are back to school it's time to start thinking about you, mama. So often we neglect our own wardrobe, especially our undergarments, instead buying a seemingly neverending supply of socks and underwear for our every growing kiddos. From slips to boyshorts, boxers to briefs, we have what you need to make sure even your undergarments for both ladies and gentlemen are fresh, comfy, supportive, and soft this season. Whether you are searching for shapewear or simply need some new everyday undies, this season's selections are ideal for year-round wear, offering what both men and women want and need in underwear.
One of the essential items you will need when you are heading off to college is clean underwear. Yes, you heard me. Don't fight your Mom when she tells you to always have extra underwear on hand. The only brand you can trust is Wood UnderWear. This female-owned company specializes in luxury men's undergarments that will keep them comfy and not to mention stylish.
The Crew Neck and V Neck undershirts are versatile in that they can be worn as an undershirt, a tee, or as a layering piece on colder days. Both shirts are made from Lenzing Modal spun from beech tree cellulose blend. This fabric blend is super soft and has some wicking properties to keep cool and comfortable while you run around campus all day.
On the days you're not running around campus and want to lounge around in your dorm room, slip into the Cashmere Boxer Brief. This super-soft, breathable cashmere brief has a luxury feel that will leave you comfortable and relaxed. Your performance will be enhanced all day long with these briefs' nonbinding waistband, gusset design, and moisture-wicking ability.
Another great option for lounging is the Boxer Brief, which has a functional fly and a Lenzing Modal/cotton blend that keeps you dry, is durable but still easy to wash, and performs even after the longest day. For every man who appreciates quality and is looking for luxury, the Wood Underwear and undershirts are designed to perfection for him.